| Name | Flat Zone 3 |
| --- | --- |
| Location | Game & Watch |
| Home Stage of | Mr. Game & Watch |
| Hazard #1 | Octopus |
| Hazard #2 | Moles |
| Hazard #3 | N/A |
| Hazard #4 | N/A |
| Origin | Octopus (G&W) |
| Release Date of Origin | 1980 |
| Works | Vermin (G&W) |
| | Octopus (G&W) |
| | Helmet (G&W) |
| Submitted By: | DojoTL |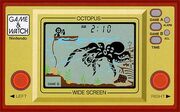 Stage Info
Edit
This is a wacky stage full of surprises.
Stage Layout
Edit
The first tier your on the Helmet stage. You then transfer to Octopus stage. Then finally to the Vermin stage.
Stage Hazards
Edit
Octopus: On the Octopus tier, the Octopus's tentacles receive when you touch them (7%-11%).
Moles: When your on the mole tier, moles pop up under ground and you receive damage (4%-8%)
External Links
Edit
Official Submission Page on the Mercurious Website
Community content is available under
CC-BY-SA
unless otherwise noted.