| | |
| --- | --- |
| Name | Mushroom Kingdom |
| Universe | Super Mario |
| Home Stage To | Mario |
| Game Based On | Super Mario Bros. |
| Release Date | September 13, 1985 |
| Size | Medium |
| Type | Simplistic |
| Primary Hazard | Bill Blaster & Bullet Bill |
| Secondary Hazard | Koopa Troopas |
| Tertiary Hazard | Goombas |
| Quaternary Hazard | N/A |
| Availabilty | Default |
| Unlocking Method | N/A |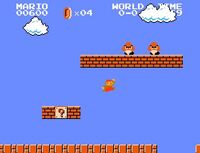 The Mushroom Kingdom has been the location for many games throughout the Super Mario series, but this version of the Mushroom Kingdom is taken directly from the original Super Mario Bros. game for the Nintendo Entertainment System. In the game, the Mario Bros. must travel throughout the Mushroom Kingdom to find the kidnapped Princess Toadstool and save her from the evil King Bowser, leader of the Koopas.
In the Smash Bros. Unlimited version of the Mushroom Kingdom stage, players sent flying to a possible KO may be stopped in their tracks by the various Brick Blocks or ? Blocks scattered about the area. When hitting a ? Block, it'll spawn a random item. A Bill Blaster also appears on the stage, firing Bullet Bills every 3-5 turns which might hit a player. It may also fire a Missile Bill, which first appeared in Super Mario Bros. 3. Missile Bills will home-in on a random player and target them. Koopa Troopas will appear on the stage randomly, jumping on one of them will cause them to retract into their shell, creating either a Green Shell or Red Shell item. Goombas will also randomly appear on the stage, and by jumping on them, they'll simply be defeated. Touching a Koopa Troopa or Goomba in any other fashion will result in being damaged.
Community content is available under
CC-BY-SA
unless otherwise noted.